UK Companies on Cyber 'Red Alert'
Discover new and emerging cybersecurity threats targeting the UK mid-market.
New research from Censornet uncovers how companies are fending off cyber attacks, where the biggest weaknesses are - and what can be done to improve defences.
According to the UK Government, Britain is now the third most targeted country in the world by hostile state cyber-attacks - and SMEs face a 50% chance of suffering a breach. Find out what you can do about it.
Two in three mid-market organisations suffered an outage, and one in five paid a ransom to recover stolen data.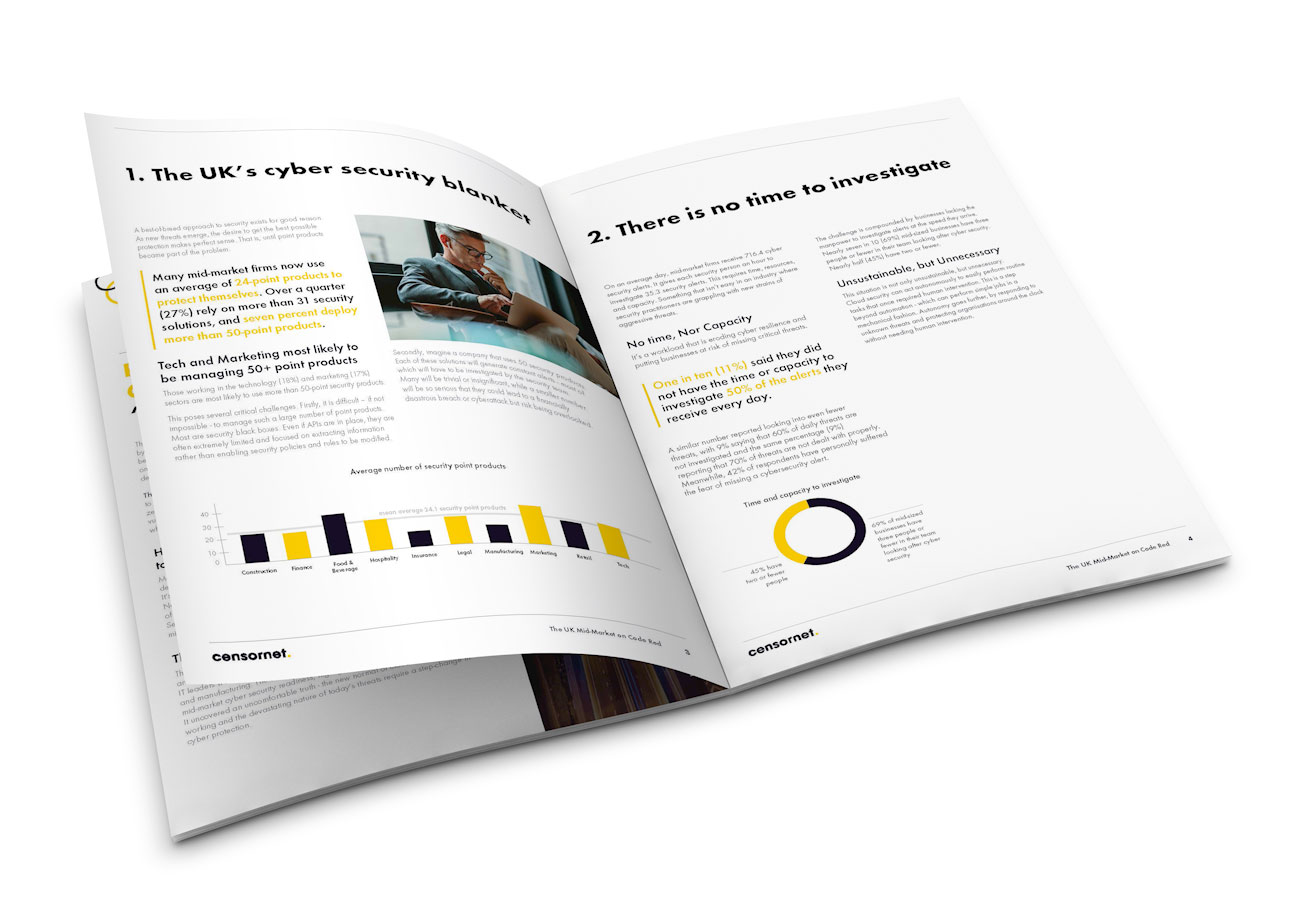 Download this Report to:
Understand the Threats
Find out the new and emerging threats targeting your organisation right now.
Mitigate the Human Cost
Learn the human cost of cybersecurity, and how you can relieve the pressure.
Improve your Protection
Find out how to improve your protection against multi-channel attacks.
Reduce Cost & Complexity
Discover how to reduce the cost and complexity of your cybersecurity.
Two thirds of the mid-market believe their cybersecurity is future-proofed. But the figures tell a different story.
Catastrophic breaches are on the rise, as too many organisations face fundamental security weaknesses.
DEVASTING OUTAGES
Half saw their systems knocked offline for more than a day.
EXPENSIVE RANSOMS
The average ransomware payout was £144,000, with 7% paying more than £500,000.
HAZARDOUS EMAILS
Only half can prevent dangerous attachments reaching inboxes.
CLOUD INVISIBILITY
Fewer than half (43%) have complete visibility into all cloud app use.
CROSS-CHANNEL THREATS
Six in ten can't prevent cross-channel attacks across email, web or cloud apps.